Become a Summiteer!
Companies, community groups, schools, families, and individuals sometimes plan and host fundraising events to benefit The Summit Center and support our mission.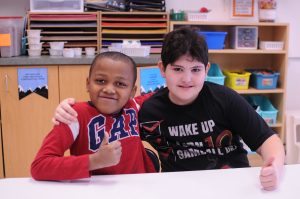 We appreciate and encourage these events! The Summit Center developed the Summiteer program to assist and recognize those who organize fundraising events and activities to benefit The Summit Center.
Why become a Summiteer?
All money raised will directly benefit the individuals we serve. If you choose, you may select to restrict your donation to a specific Summit program or service. If your event raises $250 or more, it will be recognized in the following edition of Summit's e-newsletter and The Summit Center annual report.
What kind of community-supported events raise money for The Summit Center?
Raffles, car shows, bake sales, car washes, golf tournaments, dress down days, fitness challenges, zumba-thons, etc. These are only a few ideas. Be creative and brainstorm about what would work best for you and your supporters. Keep in mind that it's important the attendees know why the event is being held and why The Summit Center and its mission is so important to you! If your company or community organization has a unique idea to raise funds for The Summit Center, we want to hear all about it!
How do I become a Summiteer?
Start by filling out the application online or via download. All individuals/organizations must submit the application, including all applicable information. Make sure to read our Summiteer Guidelines.
If you have any questions, please call Laura Brann at 716.629.3438 or email development@thesummitcenter.org.
Summiteer Application
Help to raise funds and awareness for The Summit Center through our Summiteer program! Be sure to download the Summiteer Guidelines.
You can also download the application here.
Summiteer Guidelines
All fundraising activities benefiting The Summit Center or Summit Foundation, Inc. must be approved in advance by The Summit Center's Development Office.
Review our guidelines and then complete and return the application
Please contact us at development@thesummitcenter.org if you would like a PDF version of the guidelines and application sent to you via email.
Receive approval from The Summit Center to proceed
Once we have received your application, we will contact you. Please do not start promoting the fundraiser until you have received confirmation of approval from us.
Planning your Summiteer fundraiser
Now it's time to start promoting your fundraiser! Send out email or paper invitations, create fliers, a social media event or other promotional materials. Engage potential attendees or participants via social media. Facebook and Twitter are excellent tools to help promote events to the public. Encourage friends, family, and co-workers to join you in planning or promoting the event!
Keep your Summit Development contact informed
If necessary, The Summit Center can provide you with logos, a banner, a representative to speak at your fundraiser about Summit's programs and services, as well as volunteers for on-site support the day of your fundraiser. Your Summit contact is a great resource to brainstorm ideas with, approve your communications, provide resources such as Summit materials and information, and overall, help make your fundraising event a success!
Collect your funds
Have your donors and supporters make checks payable to your community group and the net proceeds are then donated to The Summit Center. You can also register a PayPal account and accept payment via credit card! Be sure to send all funds to our office within 30 days of your fundraising event.
Please send a check payable to The Summit Center to the following address:
Attn: Summiteer Program, Development Office
The Summit Center
150 Stahl Road
Getzville, New York 14068
Following along with our guidelines will ensure a successful fundraising event. Thank you for all your hard work in the planning, promotion, and execution of your event. We hope it was a great success! Please make sure to thank your supporters, attendees, venue, and any sponsors.
Questions about the Summiteer program:
Please call Laura Brann at (716) 629-3428 or email lbrann@thesummitcenter.org