Contact
To learn more about this program, please call us!
75 Pineview Dr., Suite 200
Amherst, NY 14228
Adult Respite
The Summit Center offers a daytime respite program for adults (ages 21 and up) with developmental disabilities who are eligible for OPWDD services.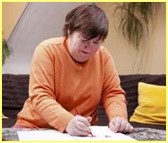 The adult respite program will operate three days per week on Tuesday, Wednesday, and Thursday from 10 a.m. – 2 p.m. at Summit's Respite Center, 55 Pineview Dr., Amherst. Participants may choose to attend as many days as they like to fit their needs.
In addition to leisure activities and peer interaction throughout the day, participants will take part in one group community outing per week. Our goal is to provide a positive environment with caring professional staff where participants can interact with peers and enjoy leisure activities during the week. Participants must provide their own transportation.
If interested, please contact us so that we can learn more about you and begin the intake process. For more information, contact Laura Shepherd, Coordinator of Community Services, at 716.629.3437 or Ashlee Bronson, Assistant Director of Community Services, at 716.799.8156.
Eligibility
Here's how to determine your eligibility:
Participants must be eligible for OPWDD HCBS Waiver funded programs.
Participants should have limited, if any, behavioral support needs and require no medication administered during program hours.
Participants should also require minimal to no assistance with toileting.