Contact
To learn more about this program, please call us!
75 Pineview Dr., Suite 200
Amherst, NY 14228
S.T.A.R. Recreation
Is your child's behavior a barrier to community activities?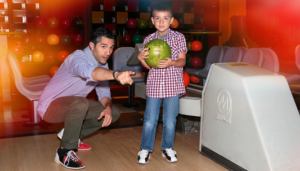 Your child may be interested in a sport or activity, but a challenging behavior stands in the way. Maybe you would like to take them to the mall, a restaurant, playground, or museum, but just need a little extra assistance. The Summit Center can help!
Our S.T.A.R. Recreation program will give you the skills you need to support your child in community activities. The program provides up to 10 sessions of 1:1 training/support (up to two hours per session) helping children with disabilities and their families become more engaged in their community. There is no waitlist and the program is FREE!
Our trained staff will help you learn how to better use praise to motivate your child, manage challenging behavior in the community, and build acceptance in the community.
Download flyer.
Eligibility
Here's how to determine your eligibility:
Must be eligible under the New York State Office for People with Developmental Disabilities (OPWDD)
5 – 18 years of age