February 8, 2021
/
General News
Register for the 2021 Autism Walk – Virtual Challenge!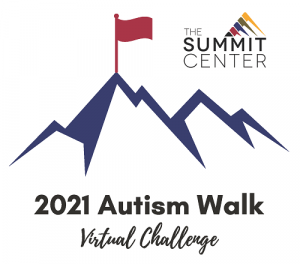 The Summit Center's Autism Walk is a community event to raise funds in support of Summit's programs and services in Western New York. In the past, the Walk has been held at Summit on Stahl Road in Getzville. In 2021, the Walk will again be a virtual event so that all of our participants will stay safe.
Register on March 1st at www.SummitWalk.org
When: Saturday, May 15 and Sunday, May 16
Where: Your home, your neighborhood or your favorite park or trail
Pick your virtual challenge! Walk a mile, a 5k, or choose your own activity. Maybe it's running or biking or even building a puzzle with your child. Find your favorite activity and join us on May 15 and 16 for a fun-filled weekend to raise funds for Summit. Even though we can't gather together in large groups just yet, you can participate in your own home, in your neighborhood, or at your favorite park.
Cost: $10 fundraising minimum required at the time of registration. No fundraising requirement for children under 18.
Register here.
Additional Details: Stay tuned for more information. Give us a call at 716.629.3423 with any questions. We can also be reached at autismwalk@thesummitcenter.org.