Contact
If you have any questions about P.A.C.E. or would like an application, please call us!
75 Pineview Dr, Suite 200
Amherst, NY 14228
P.A.C.E. (Prevocational And Community Experience)
How would you like to work in a bustling kitchen?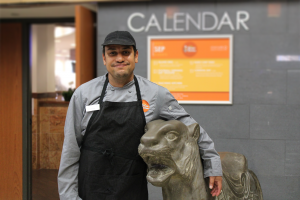 P.A.C.E. interns learn by doing: bussing tables, prepping, portioning, serving and more. Through our collaboration with Buffalo State University and the University at Buffalo, P.A.C.E. offers our interns real work experience.
This pre-vocational training program will help get you the necessary work experience and job skills to obtain a job. You'll also make great friends and coworkers too!
Prior to your shift, you will meet each morning with a Summit Employment Specialist to discuss practical employment skills such as calling in late or calling off of work. The Employment Specialist will also discuss broader soft-skill issues such as accepting feedback, self-advocacy, personal hygiene, and social skills. They'll be there throughout the day to answer any questions or issues that arise.
This opportunity provides you with an internship of up to one year, with the expectation that you will obtain employment within that time frame.
Download Flyer
Eligibility
Here's how to determine your eligibility:
Participants must be 18 years of age or older
Must be eligible under the New York State Office for People with Developmental Disabilities (OPWDD)
This service is funded by the New York State Office for People with Developmental Disabilities (OPWDD) and provided at no direct cost to individuals who are eligible
Basic communication skills
Ability to be left unsupervised for brief periods of time
Independent toileting and feeding skills
Maintains own reliable transportation to and from training location
Suitable social, grooming, and hygiene skills, and follows dress code