Day Programs (S.T.E.P.S.)
Day Programs (S.T.E.P.S.)
Contact
If you have any questions about S.T.E.P.S., please call us!
75 Pineview Dr., Suite 200
Amherst, NY 14228
S.T.E.P.S.
The next step in your journey starts here.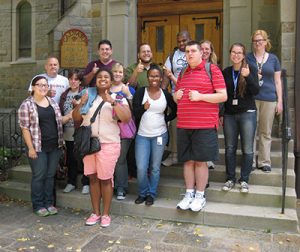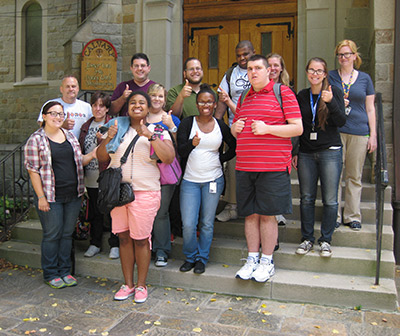 Congratulations on graduating from school! You may have started thinking about what's next for you. S.T.E.P.S. (Success Through Engagement and Positive Supports) might be the next step for you in your life journey.
With three locations across Western New York, S.T.E.P.S. is a day habilitation program where you will have the opportunity to make a new group of friends and participate in lots of community outings.
S.T.E.P.S. participants volunteer for different community organizations in the area, engage in leisure activities, and participate in various skill-building opportunities that might help you get a job.
Our staff will be right along side you as you choose the path of your day.  Enhanced staffing ratios allows S.T.E.P.S. to address the needs of individuals with challenging behaviors due to their disability.
There are three locations for our S.T.E.P.S. program:
S.T.E.P.S. – Tonawanda: St. Francis of Assisi Church (St. Clare Center), 70 Adam St., Tonawanda, NY
S.T.E.P.S. – Bowmansville: Sacred Heart of Jesus Church, 5337 Bowmansville, NY.
S.T.E.P.S. – North Tonawanda: Renewal Church, 530 Meadow Drive, North Tonawanda, NY
Informed Choice – We support adults with intellectual disabilities to make choices about things that are important to them, including housing, friends, work, health, recreation and leisure.
Eligibility
Here's how to determine your eligibility:
Participant must have exited high school
Must be eligible under the New York State Office for People with Developmental Disabilities (OPWDD)
Service includes transportation to and from program, and to community activities throughout the program day.
This service is provided in a community setting, and individuals must be able to safely participate in this type of setting
This service is funded by the New York State Office for People with Developmental Disabilities (OPWDD) and provided at no direct cost to individuals who are eligible