OPWDD – Supported Employment
OPWDD – Supported Employment
Contact
If you have any questions about Supported Employment, please call us!
75 Pineview Dr, Suite 200
Amherst, NY 14228
OPWDD - Supported Employment
We will help you find the right job.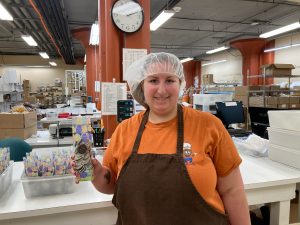 If you are eligible under OPWDD, we will help you find and maintain gainful employment. We will work with you directly to make sure where you work is the right fit for you. Here's how this program works:
An employment specialist/job coach will first meet with you to determine your skills and areas of interest. For example, if you are interested in art, we may try to find you a placement at an arts and crafts store. Your employment specialist will then work with you to apply for that job, arrange transportation, attend job interviews with you, and provide job site coaching to ensure that you are comfortable in your new work setting. Our employment specialist will help you with all aspects of maintaining employment depending on your personal needs, including using a time clock, packing or purchasing your lunch, and making friends on the job. Soon, you'll be working before you know it.
Let's get to work!
Eligibility
Here's how to determine your eligibility for supported employment:
Participants must be 18 years of age or older
Must be eligible under the New York State Office for People with Developmental Disabilities (OPWDD)
This service is funded by the New York State Office for People with Developmental Disabilities (OPWDD) and provided at no direct cost to individuals who are eligible
Employer Benefits
There are several benefits for you and your business if you choose to employ an individual through Supported Employment (SEMP). These benefits include:
Job candidates are pre-screened and matched to jobs that align with their interests.
Employment positions are analyzed to provide job candidates with a thorough understanding of your expectations.
We will provide assistance with training techniques.
We are available to troubleshoot and assist with any problems if they arise.
Tax incentives are available.
Our SEMP specialist will provide your job candidate with ongoing support and you and your employees with specialized training to help ensure a successful placement.
Hiring a diverse workforce is good for business!
People with developmental disabilities tend to stay in jobs for long periods of time. A higher retention rate of diversified workers lowers your costs of hiring and training.
You will be opening your search to an untapped pool of workers which gives you access to a new and vital workforce.
A diverse workforce introduces you to new viewpoints and approaches, giving you a competitive advantage.
People with developmental disabilities take great pride in their work. As ambitious co-workers, they motivate other employees, increasing productivity for everyone.
Employing a diverse workforce demonstrates your company's commitment to the community.