April 16, 2020
/
General News
The Summit Center Announces Virtual Walk
The Summit Center's Virtual Autism Walk
Presented by West Herr Automotive Group

June 1 – June 6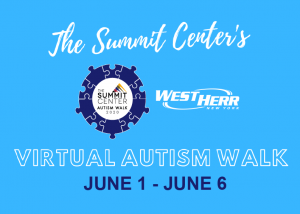 Here's How the Virtual Walk Works.
We encourage you to devote 54 minutes of your time in honor of the 1 in 54 children impacted by autism. Anytime from June 1 – June 6, walk for 54 minutes. Or, walk a little each day to total 54 minutes over the course of the week.
Instead of gathering together at The Summit Center, participants will walk in their own neighborhood, in their favorite local park, or in a spot they've always wanted to visit. In addition, we'll be posting weekly challenges to complete in celebration of The Summit Center's work to make lives better.
Different Locations. Same Mission.
The Summit Center needs your support more than ever to continue providing exceptional programs and services. Your fundraising efforts will help our children and young adults to return to their second home at Summit when this crisis is over.
A virtual walk also enables those who do not live in Western New York to take part! Spread the word to family and friends who would love to express their support for a special person in their life. They can show solidarity by registering and walking in their own community.